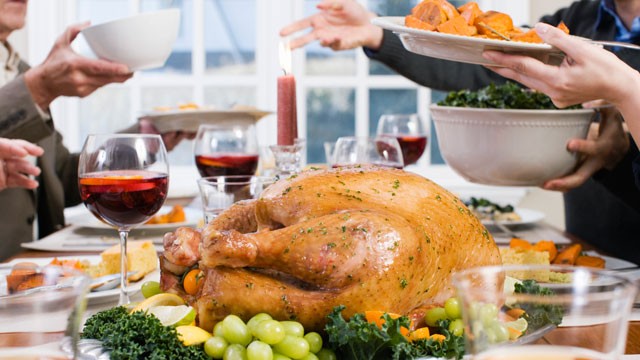 Here is my segment from last Tuesday.  What can I say?  The election made me forget to post!
Ways To Save On Your Thanksgiving Eats:
Between the food and the decorations, it's easy to blow your budget on one family meal.  However, there are fast, simple ways to keep your Thanksgiving dollars in check.  As for your waistline?  That's up to you, my friends.
1.  Use smaller plates.  People take less food if the plate is smaller.  This cuts down on the amount of half eaten stuff left on plates, which, in turn cuts down on food thrown away.  This is particularly a smart tip if you have small children dining with you.
2.  Go potluck.  If everyone shares in the cost of dinner, no one family is covering the entire cost.  Plus, you get to sample more dishes, and discover new family favorites.  Be sure to ask the cooks to have copies of their recipes on hand to share with the group.
Caveat:  The host of the dinner should probably make the turkey, as they are hard to transport.  You can improve the taste of any store-bought turkey by brining it.  Brining only requires 4 inexpensive items – water, salt, sugar, and a container big enough to submerge the bird.  For everything you ever needed to know about brining, go to:  http://whatscookingamerica.net/Poultry/BriningPoultry.htm
3.  Don't squander the leftovers.  If you waste your leftovers, you are throwing money away.  At the same time you're making a plan for the dinner, plan what you intend to do with the leftovers.  Check out meta recipe sites like All Recipes.com for creative uses for Thanksgiving extras, or go to my favorite food site, Serious Eats.com.
And remember, just because you're hosting dinner, doesn't mean all the leftovers HAVE to stay with you.  Package them up for your guests, so they can indulge in turkey/stuffing/gravy/cranberry/Brussel sprout sandwiches all weekend long, too.
4.  Turn it down.  Thanksgiving Day is the perfect day to cut back, way back, on your heating bill.  Between the guests and the stove and the fire for ambiance and all the running around, no one will ever notice if you drop the heat to as low as 60 degrees.
5.  Save on the toast.  My favorite place to find fabulous wine for less is Costco.  They carry amazing Sauvignon Blanc and Chardonnay, to go with the turkey.  Best of all, you don't need a Costco membership to shop in their liquor department.
And to save on the food you do buy, check out Fare For All, brought to you by the Emergency Foodshelf Network.  They put together holiday dinner packages of meat, veggies, and all the fixings for $20-$30.  Fare For All promises you a savings of up to 40% off grocery prices, with NO coupons necessary.
Remember, you don't need to be on public assistance to participate.  In fact, the more people that use Fare For All, the more great deals they can offer everyone.  For more information, log on to:
http://www.emergencyfoodshelf.org/ourfamilyofprograms/ffa/Index.aspx