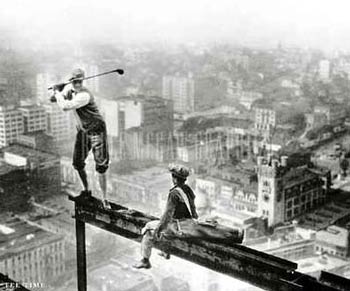 Do you like golf?  Do you like saving money?  Then read on, my friends…
How To Save On Golf Fees:
1.  Golf on a weekday or golf after 3-4 PM for twilight rates.  And for the very best prices, golf on a weekday after 3-4 PM.
2.  Golf only nine holes.  18 holes typically cost twice as much.
3.  Walk – don't rent a golf cart.  You'll save almost $20 a round.
4.  Look for discounts and freebies online.
Many golf courses offer discounts on their websites, especially if you join their site – which typically costs nothing.  For example, if you sign up for eLink at StoneRidge in Stillwater, you'll receive a free round of golf 5 days before or after your full or half birthday.
Log on to Twin Cities Golf.com and check out their Dealz page.  Right now, they are offering a round of 18 holes, cart included, for just $36.00, at the New Richmond Golf Club.  That's a savings of $32.  The offer is valid Monday through Friday anytime AND Saturday, Sunday, and Holidays after 12 PM.  Also, if you like their Facebook Page or join their website, you'll be eligible for additional offers for free rounds of golf.  Log on to TwinCitiesGolf.com.
Go to Golf 18 Network.com to find discount tee times across the country.  In the Twin Cities, I found a 35% discount for tee times on Saturday and Sunday at Rum River Hills Golf Club in Anoka.
If you book through TeeMaster.com, you'll save $8 to $20 per round of golf at courses like Chomonix and Mississippi Dunes.
And don't forget to check Groupon, Daily Deals Twin Cities, or Living Social for golf course discounts.  For example, on Living Social I found a round of golf for two players, 18 holes including the cart, at Red Wing Golf Club for $49.
Top 3 Public Courses:  According to Golf Magazine and Golf.com, the best public golf courses around the Twin Cities, for 2012, are StoneRidge in Stillwater, Legends Club in Prior Lake, and Chaska Town Course in Chaska.  These courses range in price from $45 to $84 for a round of 18 holes, depending what time of the day, and what day of the week you golf.
The Number 1 Public Course in the State:  It is The Quarry at Giants Ridge in Biwabik, MN.  To golf a round of 18 holes here will set you back $89 on the weekends, or $62 for a round of twilight golf.
The Least Expensive Golf in the Twin Cities:  The cheapest rates I found for 1 round of golf, 18 holes, is through Minneapolis Park and Rec and Golf St. Paul.  If you play one of the 5 courses in Minneapolis after 6 PM, it will cost you a mere $14 per round.  And in St. Paul, if you play at Como Park or Phalen, after 6 PM, it also will cost just $14 for a round.  Go to MinneapolisParks.org or GolfStPaul.org to book your tee times.